Professional Tips For The Beginner Pole Dancer VBook
Get Leaner, Stronger, Dance with Grace and Ease, and Look Your Best!
This is a VBook because it contains TWO Distinct pieces of educational material;
 The Ebook (A PDF Download)  This written manual with all the pro tips beginners can easily add to their pole dancing routine or workout to look and feel as graceful as a professional.
Video Instructions where I show you how to do 3 "Mini" Pole Dancing Routines you can use for fun or a workout tonight in your own home!  Use on any mobile device, computer, TV, your friend's house, or anywhere there is an Internet connection!
In This Vbook, You Will Learn
Advanced Gripping Techniques Tailored To You!
Strengthening Exercises To Make Your Upper and Lower Body Rock Solid!
Flexibility Secret To Dance Better and Even Get Your Splits, No Matter Your Age!
Dancer's Diet Tips To Shred Fat and Get You Lean …. FAST!!
Secrets To Dance With Grace & Ease Like The Pro's!
3 Exclusive MINI Pole Dance Routines For Beginners with STEP BY STEP Instruction! Start Dancing Tonight!
Build health, strength, energy AND improve posture
Bruising Remedies That Are Natural And Actually WORK!!
Overcome Painful Hurdles Beginners Often Face Quicker and Easier.
Do You Want To Take Your Dancing To The Next Level?
Is Your Upper Body Strength Weak?
Are You Struggling To Get A Grip, Even After Trying Grip Aids?
Do You Feel Like It's too Hard?
Wondering How Dancers Look So Graceful & Why You Don't?
But Really Love Pole & Want To Look Your Best?
Do You Struggle To Put Together The Most Basic Pole Dance Moves?
This Simple Vbook Can Answer Your Concerns While Making You Stronger & Sexier Than You Ever Thought Possible.
While getting on YouTube is fun to learn more pole dance moves, it lacks the professional dance tips that actually make you a better dancer.
Getting the right instruction will help you gain the RIGHT kind of flexibility and strength to help you pole dance.
Going to the gym and lifting weights on your own doesn't necessarily help you get any better at pole dancing!
There is a certain posture and form to hold your body in while you dance & exercise. Transitions are made smooth and graceful through deliberate placement of the muscles and bones.
If you aren't exercising with proper "dance posture" you won't necessarily improve the look and strength of your pole dancing.
These professional tips will help you finally get over the hump to get that upper body strength to perform those fun pole tricks!
If I can do it with two herniated discs in my back, you can do it too!!!
As an experienced ballet, lyrical, and jazz dancer, and certified pole dance instructor, I've created this ebook because I know how it feels to be insecure, overweight, depressed, and tired… To get a late start to fitness and dance and think you're too old to ever get the body and energy you crave.
Ever wondered how dancers get those incredibly long, lean, sculpted bodies?
It's all in the way they move, their dietary habits, their flexibility training, and specialized dance techniques.
Never been to a dance class in your life? Not a firefighter with experience on a pole?
No problem! That's exactly why I was inspired to create and tailor my fitness dance lessons to everyone without a dance background.
And this isn't about stripping. (Though no judgments here!) This is about beauty, strength and power.
Here is a sample dance lesson included in the Professional Tips For Beginner Pole Dancers Ebook
These Lessons Are EXCLUSIVE to this VBook and are not found in PoleBody Complete Home Edition AKA The Home Pole Lessons For Everyday Women or in any other coarse at PoleFitnessDancing.com
In short, I'm going to teach you professional dance techniques that will re-shape your entire body and get you dancing with amazing strength, flexibility, and stamina you thought you never had!
Here's What You Will Get in the VBook (PDF Download with Video):
Professional Dance Exercises specifically targeted to make both your upper and lower body rock solid, as well as sculpting those abs! These aren't exercises you have seen if your everyday fitness class! They're better!
3 Beginner MINI Pole Dance Routines broken down in easy-to-follow video tutorials, so you can start dancing tonight, no matter your fitness level, weight or body shape. These are exclusive to the VBook and NOT found in the Home Pole Dancing Lessons For Everyday Women.
Flexibility Training to improve your ability to do pole tricks and get your splits, not matter what your age or weight!!
Fat Shredding Tips that Dancer's Use to Get Lean & Sexy, FAST!
Coveted Secrets To Dance With Grace And Ease, Become The Dancer You know You can be!
Advanced Tips To Get A Better Grip On The Pole, Custom Tailored To You!
The Quickest Way To Naturally Heal Bruises! As well As how to prevent getting them in the first place!
Instant Access to 3 Beginner Pole Dance Routines
Taught with professional ballet technique in mind to give you those long, toned, muscles of a true dancer.
Easy to follow and broken down step by step. You will get an individual breakdown of each pole move, trick, and spin including tips to make it easier so you can learn faster.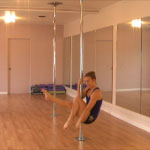 Advanced Gripping Techniques
Gripping the pole is commonly a beginner complaint and a frustrating one!
The tips in this book will help tailor the different grip aids to your dance environment and your skin type.
No body is the same and therefore, your gripping solution will not be the same either.
Let's put an end to this frustration and get on with the fun of dancing!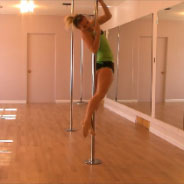 Strength Building Exercises & Flexibility Training
These dancer's exercises will help you stick to the pole like flypaper! And these aren't the same old gym exercises either!
A muscle should not only be very strong, but flexible at the same time in order to properly and gracefully execute pole dance moves.
Let me show you how to get stronger and more flexible so those pole moves become a breeze!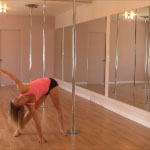 Coveted Secrets To Dancing With Grace and Ease
Have you already learned a few pole moves ……….. but they don't look as good as the pro's? Or worse …. they just don't look right at all?!
Can't figure out why?
Let me share with you some professional tips about proper dance form, techniques that will change the way you move, and coach you into that graceful appearance you dream of!
It's one thing to learn a pole move, but it's another to learn how to do it with good dance form and grace. I'll show you how to make it look easy, even when it's not!
Fat Shredding Secrets Used By Dancers To Get Lean
This isn't a new diet to learn, it's a lifestyle.
These tips are for women who are ready for a real and lasting change, not a one time quick fix!
Commit to your practice in pole dancing and learn to nourish you body into the best health and best LEAN appearance you could possible have with the professional tips I'm about to share with you!
Being completely new to pole dancing I love that I can take these lessons at home in the comfort of my own space. The videos are very clear and there are so many options for beginners. I probably would not have tried pole dancing at all if I would have had to go to a studio. Danna is also very responsive. When I had questions I would send an email and hear back very quickly which I appreciated very much!
Kathryn Polster
Life is Short! You deserve to
enjoy life more completely by enjoying your workout too!
You don't want to miss out on the world's best fat burning workout for woman!
The Mini Pole Dance Routines in this Vbook ALONE are the equivalent of taking over 8 hours of Private Pole Dancing Classes! That's a $600 value! All in the privacy of your home on your time schedule.
What would a personal trainer charge you for over 8 hours of step by step fitness instruction? At $50 per hour that's $350!
PLUS! You get all the pro tips to make you stronger, leaner, more flexible and graceful all on your own time schedule!!

But I'm not going to charge you $600 OR $350
You will get instant access to "Professional Tips For The Beginner Pole Dancer" for just one secure payment of $14.99
That's right…… only $14.99
100% Satisfaction 60 Day Money Back Guarantee
I firmly believe that these videos will help you meet your fitness goals.
If you don't absolutely love them and feel you have gained absolutely nothing after purchasing the set then send me an email within 60 days of your order and I will give you a full refund
Copyright – PoleFitnessDancing.com ( A Product of Vital Pole Expression LLC) – All Rights Reserved