Home Pole Dancing Lessons For The Everyday Women
 Get Instant Access to over 130 video's, that will teach you to love your body and love your life!

 With over 130 easy-to-follow step by step online pole dancing lessons that transforms the average every day woman from out-of-shape and awkward "Jane" into a fit, sexy, and confident vixen in a few short months.
You Aren't Unmotivated.
Weak.
Helpless.




 
UnWorthy.
Undisciplined.
Or Even A Quitter.
You're just feeling stuck with your tedious fitness routine, and it's making you lose hope and feel like a stranger in your own skin.
Whether you're working up the courage to slip on that hot dress to get drinks with friends, attempting to summon your inner vixen for tonight's date, or just lounging in your pajamas while watching your favorite movie, one thing's for sure: The secret to feeling comfortable and confident in your own body?
Is learning how to love using it.
And the secret to learning how to love using it?
Is a fantastic fitness instructor. 
Sure, you've gone to a few yoga classes,
Hung your pull-up bar over the door (makes a great towel rack!)
And even got new neon pink running shoes (cute!).
But there's just one little problem:
You hate it and it's making you doubt yourself.  
And while there's no shame in the downward dog,
You're forcing yourself to do things that feel like torture
And that's not reflective of the independent, strong and sexy woman you are.
But wait a minute, let me back up and explain who I am, and why you should believe anything I'm telling you…….
My name is Danna, I am 35 years young, a certified pole dance teacher, and an experienced dancer in ballet, lyrical, jazz and many other dance forms.
Before I began teaching pole in 2010, I was overweight, insecure and tired!
I started pole dancing for myself as "me" time and I got addicted!  As I lost weight and grew stronger, I began doing all the fancy tricks like the Superman and other advanced contortion moves.
But then ……In 2012 I herniate two discs in my lower spine and was told I would never dance again. I couldn't even walk……
This was a shock, I cried …….. but I chose to rehabilitate my body and continue forward anyway.
The first thing I learned from my injury was that pushing your body to do things it's not ready for is a bad idea! Many women, like myself, start pole dancing with a burning desire to do all those fancy advanced tricks the pro's do.
Most of those advanced moves are not suitable for the average everyday women's body. I had pushed it too far and paid the price…..
However, beginner/intermediate pole dancing was the only form of exercise that didn't hurt my back  because I couldn't jump or run at the time.

Plus, I didn't want to give it up because it's so much fun! Not once did I ever have to push myself to pole dance. I hated pushing myself to go workout at the gym and I never wanted to experience that again!
As a result, I created dance routines with pole moves that are suitable for the average everyday women to try.
I realized that most of the pole dance moves in the pole dance community are not suitable for the everyday woman.  They are often too advanced and not every woman aspires to be a competitor or an "exotic dancer".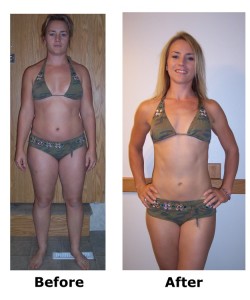 By continually dancing the beginner and intermediate moves with proper ballet technique, I was able to lose the weight, get toned, re-rehabilitate the strength in my back and leg, and regain my lost confidence!
I will never be able to do a lot of the contortion moves again, but I have recovered enough to enjoy pole dancing at home in all levels, including a wide variety of advanced tricks.
No matter what shape you are in right now, I believe you can too!!
Through lots of pain, struggles, and the support of my local community, friends and family, I overcame the odds.
I refused to let go of pole dancing as valuable exercise because of the emotional support it offers woman.
The secret I discovered is that Pole Dancing is the best way to improve your mood in the shortest amount of time! 
Pole dancing helped me get out of my depressive slump and get my life back!
Dancing connects a woman to her natural inner sexuality, renewing her inner confidence and helps her to feel genuinely sexy from the inside.
I want to offer those benefits to every woman through my pole dancing lessons while simultaneously helping them get in the best toned shape of her life!
It isn't necessary to do fancy pole tricks and complicated contortion moves to enjoy the benefits pole dancing has to offer.
Introducing Danna's Home Pole Dancing Lessons
Fitness lessons for women who aren't afraid to have a little fun. Women who have resolved to make this the year they finally put themselves first. Women who understand that power first comes from within. Women who aren't messing around and want to own their lives.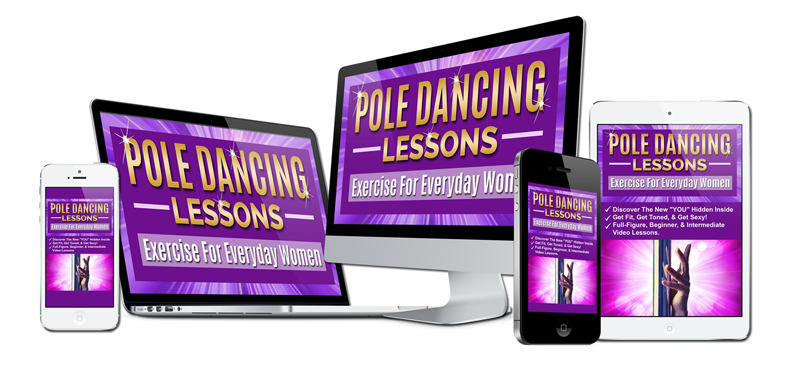 Because while you could keep getting up at 5 am to run up hills in the cold,

there's a much better way to get the body you want, and the confidence to match!
| | | |
| --- | --- | --- |
| | This is about loving who you are and having some crazy fun, because that's what life is all about. | |
And that's where I come in.
As an experienced ballet, lyrical, and jazz dancer, and certified pole dance instructor, I've created my signature Pole Dance Lessons for you, because I know how it feels to be insecure, overweight, depressed and tired... To get a late start to fitness and think you're too old to ever get the body and energy you crave.
And I've discovered that the secret to getting in shape, improving your mood, confidence AND having incredible fun in the shortest amount of time is dance + a pole.
Ever wondered how dancers get those incredibly long, lean, sculpted bodies?
It's all in the way they move. And by learning the coveted secrets of their movements, you can shape your body in the same way.
Never been to a dance class in your life? Not a firefighter with experience on a pole?
No problem! That's exactly why I was inspired to create and tailor my fitness dance lessons to women without a dance background.
And this isn't about stripping. (Though no judgments here!) This is about beauty, strength and power.
Here is a sample lesson included in the Home Pole Dance Lessons For Everyday Women
---
No More Worries About Dancing In Front Of Strangers!
In the privacy of your own home you can learn to pole dance with ease!
With my lessons, I help women like you:
Get in the best shape of your life
Look amazing and know it! Get ready for stares from men and women, both, and to stun those friends you haven't seen in years when you run into them at the grocery store. Dance tonight no matter what your fitness level!
See the results of your hard work -- in the mirror
Have some serious fun (remember how exhilarating it felt to play on the monkey bars as a kid?)
Feel genuinely sexy, young and vibrant from the inside out
Build health, strength, energy AND improve posture
Renew your inner confidence and ask for what you really want in life (Have the courage to ask out that guy you've been eyeing, and ask for that raise you know you deserve)
Connect to your natural femininity, intuition and sensuality
Be surprised to learn you wish you could work out all the time!
Pique men's curiosity (you're not going to get any complaints about this weekend hobby!)
Open the door to infinite possibilities and take more chances in life
Feel proud of the woman you've become and feel completely comfortable in your own skin
In short, I'm going to teach you how to love yourself while getting the gorgeously toned body of a dancer.
I first came across Danna's pole fitness dancing lessons on YouTube and was impressed at the clear, quality instruction. Danna obviously knows her stuff when it comes to physiology, correct muscle usage and so on. I've since signed up for some of the video lessons on her site and love the suggested routines and move tutorials there! Danna makes the lessons fun, engaging and easy to follow. I've noticed results quite quickly too. Highly recommended!

Esther P.

Instant access to more than 130 online pole dancing video lessons (worth more than $600 of private ballet and pole dancing classes)
Ultra Basic, Beginner, Intermediate, and Advanced Pole Dance Routines broken down in easy-to-follow video tutorials, so you can start dancing tonight, no matter your fitness level, weight or body shape
Step-by-step tutorials for learning pole and ballet moves and techniques like the Fireman, Pirouettes, Hooks, Spins, the Corkscrew, Hollywood, Planks, Butterfly, Crucifix and many more, so you'll be able to turn any subway pole or lamppost into your own personal Cirque du Soleil stage
Warm up routines, stretches and strengthening exercise that will strengthen and tone your muscles even more
Direct access to me through private email to help you get the most out of these videos
Don't have a pole yet? No Problem! Inside this coarse you will learn how to buy the best - safe and affordable pole for your budget and use!
Because getting gorgeous should be fun.
Instant Access to over 130 Step-By-Step Video Lessons
Taught with professional ballet technique in mind to give you those long, toned, muscles of a true dancer.

Easy to follow and broken down step by step.  You will get and individual breakdown of each pole move, trick, and spin including tips to make it easier so you can learn faster.

Lessons also include transitions, FloorWork, sexy dance warm up routines, stretching, muscle building exercises, and complete dance routines!
Lessons For All Fitness Levels
Everything you need to get started pole dancing and keep pole dancing up to advanced levels.
Ultra Basic for full-figured woman, Beginner, Intermediate and Advanced Lessons to get the everyday woman in great shape.
Individual pole moves the everyday woman can do like the Body Rolls, Fireman, Pirouettes, Hook Spins, Carousels, and more!
Already know the basics?  This coarse contains advanced routines and tricks for the intermediate to advanced dancers like Laybacks, Planks, Jasmine, Outside Leg Hang, Straddle, Inverts, and more!
Transitions, FloorWork, Positions, Hair Movement, and traditional dance movement like contemporary, ballet and jazz are weaved in to help you be expressive and look fabulous on the dance floor!
COMPLETE Dance Routines For All Fitness Levels
And these aren't the "mini" routines you see in other videos that show you how to string together 4 or 5 pole moves.
These routines are over 3 minutes long! You will be able to dance to an entire song!
Dance routines are broken down into short lessons, giving an in depth breakdown of the counts to the music and summarized at the end.  Learn all the short lessons and you will be able to dance a complete pole dance routine.
Strength Building Exercises, Flexibility Training, & Sassy Warm Up Routines
The Biggest Difference Between This Coarse And Other's You May Have Seen?
You get taught to DANCE the moves, not just how to do individual moves.  There are specific ways to pole dance that make you shine on the dance floor.  Anybody can learn a pole trick, but not everybody can make it look good!
Most coarses give you a bunch of random individual moves to learn.  Some will even give you a routine.  But the routines are usually very short (under a minute) and the routine isn't broken down like a dance lesson so you can learn step-by-step.
Our pole dancing lessons are BUILT around helping you dance to music.  It's frustrating to be shown a bunch of random moves and then not know how to put them together in a dance.
We show you how to dance FIRST and you learn the pole moves as you go through the dance routine.  This makes you a sexy rock star right out of the gate!
Don't Have A Pole Yet? NO PROBLEM!
Inside this Coarse you will get detailed information regarding how to buy the best and most safe pole for your home and budget.  Buying a pole can be a hard choice ....
Do you have vaulted ceilings?
Do you have a budget under $200?
What is your ceiling height and type?
Is it safe for my weight and fitness usage?
All these questions will get answered inside the coarse to assist you in buying the perfect and most safe dance pole for your home situation and budget.
Being completely new to pole dancing I love that I can take these lessons at home in the comfort of my own space.  The videos are very clear and there are so many options for beginners. I probably would not have tried pole dancing at all if I would have had to go to a studio.  Danna is also very responsive. When I had questions I would send an email and hear back very quickly which I appreciated very much!

Kathryn Polster
Life is Short!  You deserve to enjoy life more completely by enjoying your workout too!
You don't want to miss out on the world's best fat burning workout for woman!
Here's What You Get In The Home Lessons:
  3 Warm-Up Dance Routines. Easy-To-Follow -Sure To Get Your Heart Rate UP!     $59.97 VALUE
  2 Flexibility Routines & 3 Flexibility Training Tutorials for the entire body, splits included!  $99.95 VALUE
  7 Strengthening Tutorials For Your Entire Body & 2 Muscle Building Routines!  $179.91  VALUE
  5 Pole Dance Routines For ALL FITNESS LEVELS, Sure To Fire Up That Metabolism!  $400 VALUE
  OVER 108 Step-By-Step Tutorials On Pole Spins, Pole Positions, Transitions, & Dance Technique!  $675 VALUE
Thats a Wopping $1414.83 VALUE!
Order NOW and Get These Bonuses as a Thank You Gift.
BONUS #1 - Buy Now & Get a FREE LIFETIME UPDATES!
We strive to keep the lessons up to date and add new lessons that are helpful on occasion based on what our current customers request.  (Yes you can request a new video to be added too!)
When new videos or Bonuses are added, you automatically get them for FREE for LIFE!
100% Satisfaction 60 Day Money Back Guarantee
I firmly believe that these videos will help you meet your fitness goals.
If you don't absolutely love them and feel you have gained absolutely nothing after purchasing the set then send me an email within 60 days of your order and I will give you a full refund.
Don't Have A Pole Yet?  NO PROBLEM!
This package you will give you insider tips to find the best exercise dance pole for the best price.  Comes complete with grip aid information, pole care and install.
Ever wonder why dancers have fit bodies?  It's because they dance is a way that engages all the muscles in their body, giving them a whole body workout.  They learn to do this through proper technique, an important component missing in most pole dance courses taught today.
These pole dancing lessons are tailored for exercise purposes, balanced with ballet technique, as well as flexibility and strengthening exercises to give you the long, lean, toned lines of a true dancer.
Built with everyday woman in mind, these step by step videos take you from beginner level to the expert dancer in your free time at home.
What makes our pole dancing lessons so different?
My lessons are built in way that you can start dancing right away!  Most pole moves and spins are taught to you in individual lessons, but it's up to you to learn a bunch of random moves you barely know anything about and then try to string them together so you can just dance!
Learning pole can be difficult if the lessons are hard  and you are left alone guessing on how to put all those moves together!  It's like having pieces to a puzzle but you can't put them together to see the bigger picture.
Let's face it! Not everyone was born a great choreographer.
But don't worry! I've taken the headaches and worry out of pole dancing.
I recognize that you just want to have fun and you want to dance right now!
I designed these lessons so that you learn pole dancing by first dancing.  Any necessary pole moves or spins taught within the dance are broken down into easy-to-follow video tutorials.
You get to dance now AND you get to learn all those fun and flirty pole tricks!
---
I deeply understand the woman who feels UN-noticed and wants to lose a few pounds
These lessons are created with the average everyday woman in mind.
We know what it's like to be an everyday person, to be overweight and to have unfulfilled dreams.
We know that time flies by faster than expected!  And we know that life is too short to miss out on an opportunity to not only get in the best shape of your life, but to learn how to feel sexy while your doing it!
Women need to feel comfortable in their own skin.  Hating our bodies is not a fun way to live life!
Women are strong feminine beings!  Pole dancing helps you connect to that confident woman inside you and learn to express it!
You deserve this! EVERY woman deserves this!
You don't need to be an aspiring professional pole dancer to enjoy pole dancing lessons.
You don't need to be in the "peak" physical shape either.
All you truly need is a willingness in your heart to become the best woman you can be and to respect your feminine strengths by supporting them.
Get your little piece of heaven and your YOU time by joining today!
Make a commitment to yourself, to your health, and to your God Given right to feel sexy and confident!
Instantly Access Your Pole Dancing Lessons Now!
Your may contact support at anytime regarding this product at support@polefitnessdancing.com
100% Satisfaction 60 Day Money Back Guarantee
I firmly believe that these videos will help you meet your fitness goals.
If you don't absolutely love them and feel you have gained absolutely nothing after purchasing the set then send me an email within 60 days of your order and I will give you a full refund.