(Last Updated On: August 14, 2022)
What is a neoprene tote bag (Currently on SALE!)? I am so glad you asked! ? Neoprene tote bags are the perfect everyday tote that can do it all. It is a multipurpose tote bag that has so many wonderful benefits that set it apart from regular totes. We will go into more detail about this below, as well as share some pictures of our favorite neoprene tote bags with you!!!!! A picture says a 1000 words… right??
Neoprene Tote Bag – Black and Red (a.k.a. Scarlet Venus)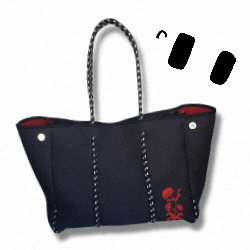 Our absolute most favorite bag is this one of kind Scarlet Venus Neoprene Tote Bag (it comes with a free mini pouch!!). The red venus fly trap design on the front corner is a one of kind original design that you will not find anywhere else! The deep red color on the Venus fly trap matches the deep red on the interior side panels of the bag along with the interior red color of the mini pouch. This neoprene handbag honestly looks good in pictures but it looks even better in person. The silky smooth black neoprene color along with the deep red accent is a definite show stopper!
Neoprene Tote Bag – Black and Pink
Our second favorite is this black and pink, large neoprene tote bag. The color choice for this bag is a little more subtle and can easily match with anything. This black neoprene tote is the exact same size and has the same interior pockets as our first choice, the Scarlet Venus Tote. They both have two large interior zippered pockets that can fit some of your smaller items that you might want to keep separate. This leaves the large interior perfect for your larger items like, books, towels, spare change of clothes, lunch, etc. Don't forget they both also have the matching mini pouch. You can fit your cell phone, keys, and debit card easily in the mini pouch when you just want to make a quick run into the store… I have tried it, they all fit perfectly!! ?
So, whether the more bold and daring Scarlet Venus tote is your style. Or, if the subtle pink and black tote is more up your alley, you will not lose any functionality with either tote you choose. In my opinion, these are the Best Neoprene Bags around. They are multipurpose and can be used as an everyday tote but can also hold so much stuff without looking too bulky.
Neoprene Tote Bag – Commonly Asked Questions
Why are neoprene bags popular? 
Neoprene bags are popular because they are stylish, low-maintenance, and versatile. This same bag can be used as an everyday bag but can also be used for so many other things as well. The neoprene fabric makes it perfect for a trip to the beach or pool since neoprene is waterproof. Even though it is capable of holding EVERYTHING you need for an adventurous outing it can also be just as classy and elegant for a special event with a simple snap of the two metal clasps on each side of the bag.
Is neoprene good for bags? 
Neoprene is the best fabric to make tote bags with. It has so many qualities that do not even compare to other fabrics. Neoprene fabric bags have a luxurious look to them and are silky smooth to the touch. But don't let that fool you. This fabric is also lightweight, flexible, durable, and waterproof.
What is a neoprene bag? 
A neoprene bag is a tote bag made out of the same material as a wetsuit used for scuba diving. It is soft but durable material that can help protect things like your laptop, camera, or even your phone from being damaged. But it looks like an everyday purse that also doubles as a large tote bag when you need it.
Are neoprene bags waterproof?
Neoprene bags are waterproof. They can withstand regular water and also saltwater. As previously stated, neoprene fabric is also used for scuba wetsuits. A neoprene beach bag can keep your contents safe from water on the inside of the tote with no problem. However, a perforated neoprene tote bag will let water seep through the tiny holes. But do keep in mind it is also much easier to dust the sand out of a perforated neoprene bag, after your trip to the beach, making for an easy clean-up.
What is so great about neoprene bags?
Neoprene bags are great because not only are they soft and lightweight they are very durable and virtually indestructible. The neoprene gives the bag the capability to stretch and flex with your heavier loads and can also withstand water from the beach or pool. It is a tote bag that can literally DO IT ALL!!
Who needs an extra large neoprene beach bag?? "YES PLEASE!! I'll take one!" ?
Can you wash a neoprene bag?
Yes, you can wash your neoprene bag! That is another benefit that makes these tote bags so great. Some people do prefer to put them in the washing machine on a gentle cycle with mild detergent. However, washing machines can be harsh and could damage the hardware on the bag. We much prefer to hand wash our neoprene tote bags in cool water with a mild detergent. Don't soak the bag or you could ruin the magnetic snaps. Never put your neoprene tote bag in the dryer. It simply should be hung up to air dry. Also, neoprene cannot be dry cleaned.
What is neoprene fabric? 
Neoprene fabric is a synthetic rubber fabric that is resistant to water and oil. Because of these qualities, neoprene fabric has become a popular choice for clothing and accessories these days. In addition, Neoprene fabric bags are also stain-resistant and very durable.
How do you get wrinkles out of neoprene bags?
To get wrinkles out of neoprene bags hang them up on a hanger for 24-48 hrs and the wrinkles will disappear. For more stubborn creases gently stretch the neoprene fabric to pull it back into shape. Then hang it up for 24-48 hours to get the crease to relax.
Are neoprene bags trendy?
Yes, neoprene bags are definitely trendy. Their popularity has grown wildly over the years. The original neoprene tote bag was first spotted for sale on one eCommerce website a few years ago. They are now in many boutiques along the coastline and also big brand stores nationwide.
What are neoprene bags used for? 
Women's Neoprene bags can be used for the everyday tote or the perfect gym and travel bag. Since the neoprene fabric is waterproof it is also great to be used by the pool, in the boat, or at the beach. Some like using it as a diaper bag as well. If you do decide to purchase a neoprene gym tote you should know that neoprene fabric does not absorb sweat and odors easily because it is a breathable fabric. This makes it a great choice as a cute gym bag option!
What are the benefits of neoprene?
Neoprene has so many benefits. It is extremely durable and was created as a substitute for rubber. Neoprene is a flexible yet strong fabric that can withstand outdoor elements such as water and even very cold temperatures. It also provides insulations in scuba suits to keep the swimmer warm. Knowing all these benefits it is no surprise that neoprene beach bags are so very popular.
Are neoprene bags worth it?
Heck Yeah! Neoprene bags and purses are definitely worth the investment! They are easily cleaned, durable, versatile, and the list just goes on and on. Combine all of the other uses and qualities that were previously highlighted in this article and neoprene tote bags are in a class all of their own!
You can get your neoprene tote bag here… P.S.- Striped Neoprene Tote Bag Coming Soon!!