A Fun and Flirty Ab Routine You Can DANCE through!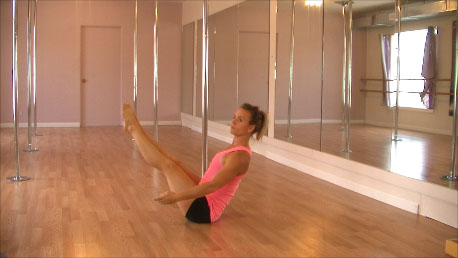 A Fun Choreographed "Dance" Step By Step Ab Routine Lesson You Can Do At Home
Challenging for ALL Fitness Levels
In this pole dancing ab routine, you will learn how to do a "dance" ab workout that is a choreographed to music. This isn't your boring crunch workout. You will learn to keep the tempo of the music, to dance and enjoy yourself as you work those abdominals.
There are familiar movements like crunches an lots of dance movements like leg beats, coccyx sits, plank side pops, and other fun movements.
This routine is adjustable for beginners and challenging for advanced users because it is taught progressively so you can tailor it to your own fitness levels and as you get stronger, you will be able to continue further into the routine until you can do it completely for 3 1/2 minutes.
Thank You so much!!! I absolutely love your lessons!! I purchased an ab exercise routine. I really appreciate your teaching style. 1st you gave the tutorial on how to learn the routine and then did the routine with the verbal promptings for each position/exercise. Not only is it a Fabulous ab workout BUT it is easy to follow!
No More Boring Crunches – Dance your way through this 3 minute routine to music!
Instant Access and Viewable On All Mobile Devices – take your pole lessons with you anywhere you go!
Specialized Moves Dancers Use To Get Sexy Muscles – These aren't you typical gym moves!
A Progressive Challenge! Beginners through advanced levels can enjoy learning this routine.
Lower and Deep Core Intensive Training for those longer, beautiful leg extensions!

100% Satisfaction 60 Day Money Back Guarantee
I firmly believe that these videos will help you meet your fitness goals.
If you don't absolutely love them and feel you have gained absolutely nothing after purchasing the set then send me an email within 60 days of your order and I will give you a full refund