This page is the dance pole installation instructions for the PFD and Pro Quality Portable Removable Dance Poles found on our website only.
Disclaimer:  Removable Exercise Fitness Pole Dancing Poles
As with any removable, portable pole that uses pressure between the floor and ceiling to keep it stable, possible damage could
occur to the ceiling. This pole is no different from any other pressure supported pole in this regard.
The fact that damage could occur must be fully understood and accepted before use. PoleFitnessDancing.com, Vital Pole Expression LLC,
their distributors, sales persons or any other persons or associated companies can not be held responsible for any
damage to property or injury to persons or third parties during the use of this product.
If you do not accept that damage can occur:
– DO NOT Remove the PFD or Pro Quality Professional Grade Dance Pole from its packaging
– DO NOT Assemble the PFD or Pro Quality Professional Grade Dance Pole
– DO NOT Use the PFD or Pro Quality Professional Grade Dance Pole
IMPORTANT: The PFD or Pro Quality Professional Grade Dance Pole CANNOT be used with false, suspended or non-rigid ceilings.
If you attempt to install the dance pole, it is considered "used".  All sales are final on used items, however, we do want to see you happy dancing on the pole and will assist in helping you get the pole installed and usable.  See returns and warranty page here.
Watch The Video Below and Use This Chart For Reference Regarding which extension to use for your ceiling height: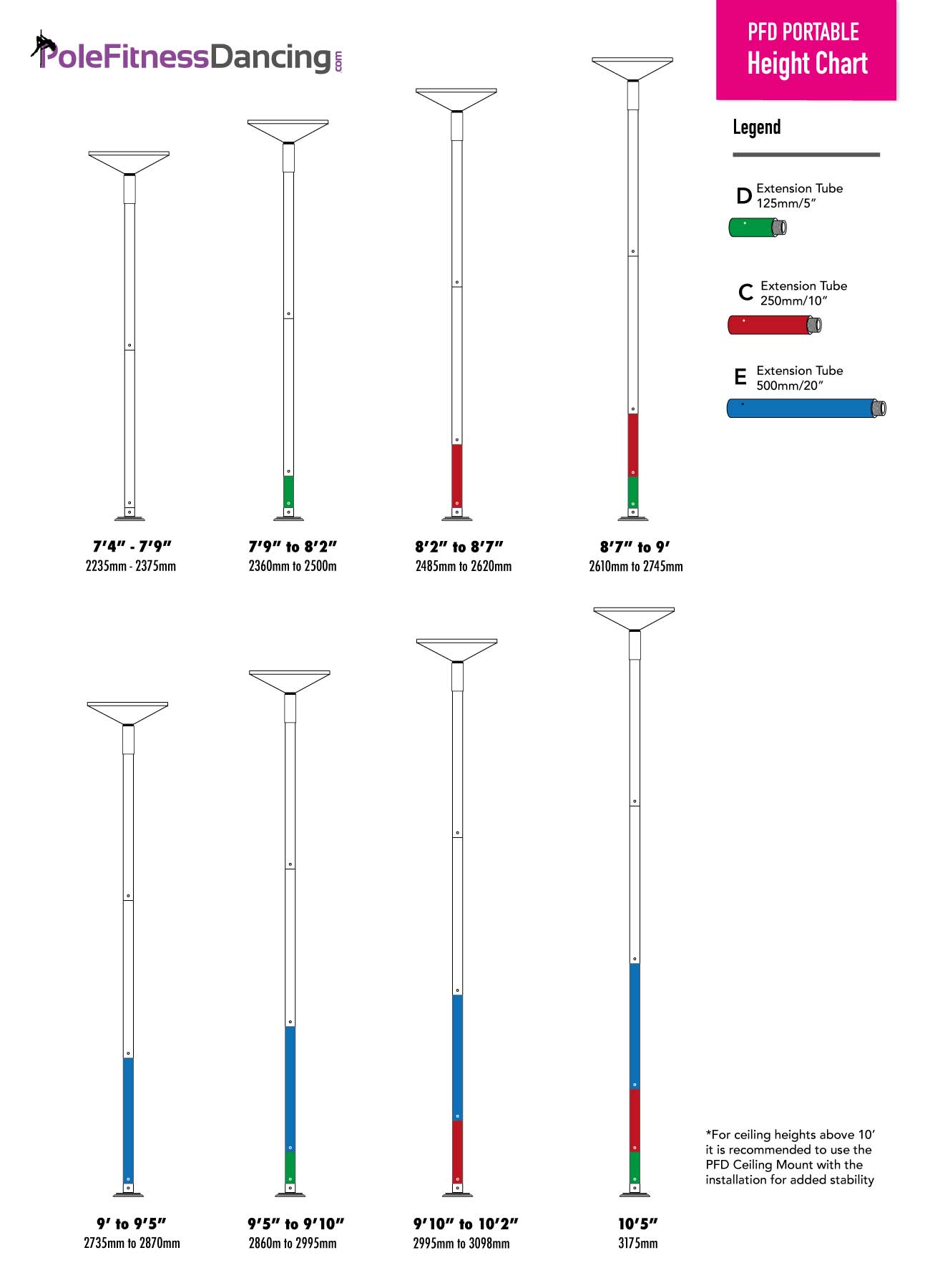 Be sure to install your pole underneath a supported structure as shown in the photo to the above.
We have made recent improvements to the PFD Pro Quality Dance Pole Base.
The previous base for the PFD Pro Quality Dance Pole bearing and base were one piece. We have recently updated the base so that the bearing ring and base can now come apart into three separate pieces. This has increased the longevity of the dance pole base and ease of spinning. Also, if there is an issue due to normal wear and tear and your bearings need to be replaced it is now much easier and cheaper to just replace the bearing instead of the whole base.
This is a new improvement and we would like for you to see the image below of what the new base looks like. When viewing the installation video below you will currently still see the older model base but this does not change the installation instructions at all. We do have a new installation video in the works and hope to have it updated on the website very soon!
Error on the Instruction Manual that comes in your Dance Pole Kit
We would like to inform you of a typo on the instruction manual that comes with your dance pole kit. Step #7 states to rotate the nut and instead should state to rotate the black adjuster bar. Step #8 states to tighten the nut by rotating it anti-clockwise and it should state clockwise instead. Please see the image below.
How To Install The PDF Pro Quality Dance Pole:
How To Use The Stud Finder To Install Your PFD Dance Pole:
UN-INSTALL Video For The PDF Pro Quality Dance Pole:
Vaulted Ceiling Mount Installation Video (for slanted ceilings):
Still have questions?  Please visit out help center

Save
Save
Save
SaveSave
Save