Free Online Pole Dance Lessons Videos
Here you will find our free online pole dancing classes so you can get a feel for what is available in Home Pole Dancing Lessons Complete Home Edition step by step video tutorials course sold in our shop.
Not all exercise programs are suitable for everyone. Consult your physician before beginning this or any other exercise program.
You should always do the WARM UP before beginning your class, and you should never push your body beyond a point that it is capable.  Pushing into pain is NOT a good sign.
These free online pole dancing classes and other online pole dancing lessons found on this website are considered an extensive fitness and dance program and should not be attempted by someone who has a physical injury.
By using these lessons / classes you agree to the terms of service agreement and release of liability.
To begin this pole dancing class, you will need to be in bare feet and wearing comfortable athletic clothes like a bra top, yoga shirt and shorts or other dance gear such as booty shorts.  Tank tops work great for beginners and feel free to use the clothing I am wearing in the pole dancing videos below as an example.
POLE DANCE LESSON #1:  Know How To Get A Good Grip On The Pole.
POLE DANCE LESSON #2:  Understand Good Dance Posture Before You Begin.
If you bring you mental focus to forming good posture habits while you are warming up and stretching then you drastically accelerate your ability execute new pole spins with ease.  Dance technique and posture not only make it possible to do a pole tick, but it makes it easier and look WAY better.
You want to build you body memory and knowledge of good form and posture into your subconscious memory.
Why?  Because it can get overwhelming to try and remember good posture and new dance technique, and new choreography, and new spins and tricks all at the same time.  Focusing on the posture as you stretch and warm up can build this knowledge into you subconscious so you don't have to consciously strain to remember it while you are dancing.  It's become like breathing, you just do it while you are dancing and don't intentionally strain to think about it every day.
POLE DANCE LESSON #3: Warm Up While Remembering Your Proper Form.
In this video you will find a fun and flirty warm up pole dance routine I give to my beginners.  ALWAYS WARM UP before you pole dance, never use cold muscles to do any exercise.  Exercising with cold muscles has proven to promote injuries.
In the beginning of the video you will find a brief breakdown of how to do the warm up step by step.
Then you will repeat the warm up routine to the music.
Once you get the hang of it, feel free to silence the sound in the video and use your own favorite music.
POLE DANCE LESSON #4:  Stretch, Especially The Upper Body.
You will get the most out of your stretching if you do it right after you warm up.
Don't skip the stretching!  Flexibility is a big part of you ability to perform future spins and tricks.
In addition, if stretching is done correctly, it can be a toning workout as well.  Here is a great article on the topic >>
This is the secret to get the long, lean muscles lines of a dancer. Stretch! Stretch! Stretch!
POLE DANCE LESSON #5: Let's Learn How To Pole Dance!!
Below you will find the FIRST lesson in a choreographed dance routine called "Stranger".
To get the rest of this dance choreography + many more dance routines you can do at home get a membership or purchase my Home Pole Lessons For Everyday Woman.
This video will break down the pole dance routine step by step and then summarize the complete lesson in the end.
Here is what the complete "Stranger" mini pole dance routine looks like in action:
POLE DANCE LESSON #6: Pole Dance Strengthening Exercises
The conditioning exercises are always done after the dance lesson / choreography or on days when you are not learning a pole dance routine.  Learning a new routine can be exhausting enough and many beginners find that by the time they are done learning the dance routine and all the spins and tricks that involves, they are done with their workout for the day.  It's simply too much to add on strengthening routines if you arms are exhausted already.
So depending on you fitness level, you may want to skip this part altogether or do it on a different day so your body has time to recover for the exercise thus far.
If you are ready for a challenge and need more, use the following video to strengthen you body for more pole dancing moves:
POLE DANCE LESSON #7: Cool Down & Stretch
Don't skip the stretching, I can't emphasize this enough!  Everyone wants to skip due to boredom or time constraints and it's a HUGE MISTAKE.
Use the below video to relax your body and unwind those muscles you just worked: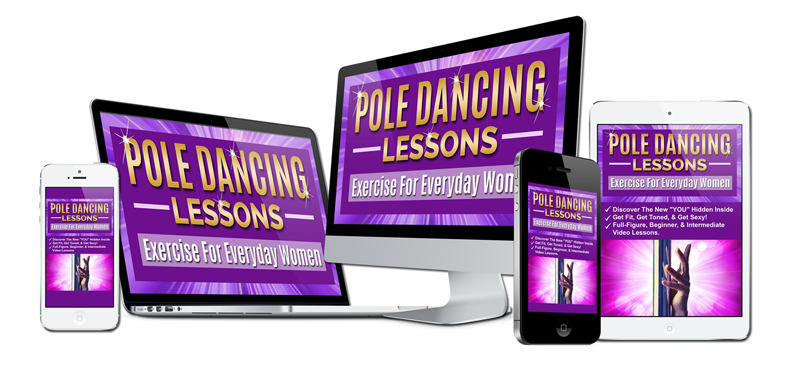 If you want more pole dancing routines, more exercises, and more tutorials for individual pole spins and tricks, get my Home Pole Dancing Lessons For Everyday Woman 🙂
I hope you enjoyed your pole dance class with me.  Please leave me a comment below and…
As always, be safe, have lots of fun, and get out there and achieve your dreams!!
Save
Save
Save
Save