(Last Updated On: December 15, 2021)
I think the all-time #1 question I get asked regarding the topic of installing portable or removable pole dancing pole kits is "Is it ok to install the dance pole on a popcorn ceiling?" Most people wonder if it is safe. Will the pole ruin the popcorn texture? And if they are renting, they are usually worried that they might not get their deposit back if the popcorn texture on the ceiling gets damaged.  All valid concerns.
I personally understand this worry because I once lived in an apartment that had popcorn ceilings when I first started learning to pole dance at home AND when I started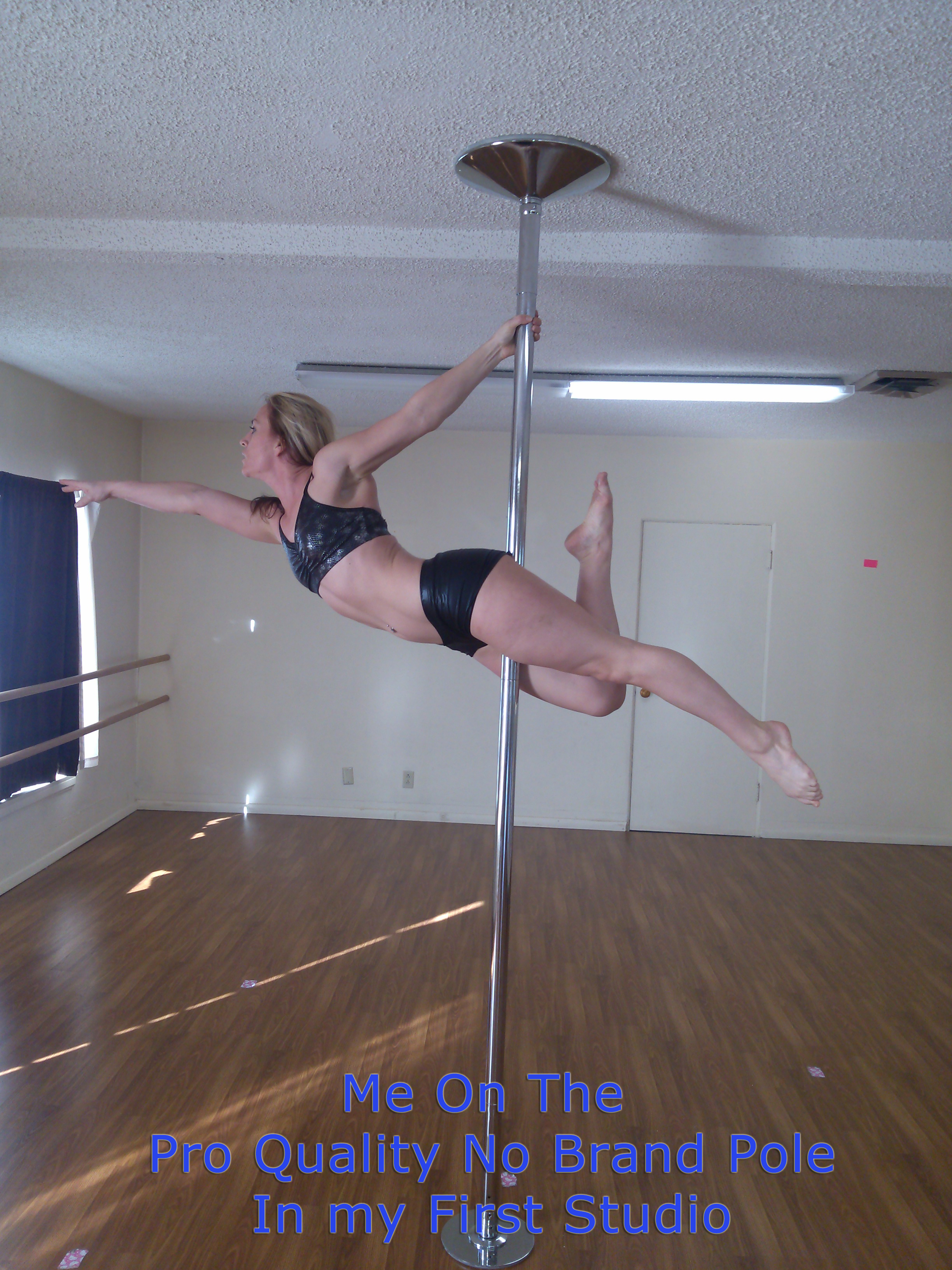 teaching, the first building I rented to open the pole studio and teach pole dancing classes had a popcorn ceiling as well!  There is popcorn everywhere!!!!!! Ok, so I just had to say that, I had a vision of confetti falling from the sky, only it was popcorn instead of confetti … in that moment… ok, that's a little weird, back to my popcorn ceiling article writing.
So here is the scoop on what to expect when you use a dance pole in your home (or apartment) on a popcorn ceiling.
Yes, you can safely install a portable and removable dance pole with a dome on a ceiling with popcorn texture, HOWEVER, here are some important things you will want to know before you decide to go ahead and do it:
There is a good chance that when you install and/or uninstall the dance pole that you will accidentally knock some of the popcorn texture off the ceiling. The more frequently you do this, the more texture you will knock off. In my first pole studio, I had to remove the dance poles every day because I had other instructors teaching different fitness classes in the same room. The repeated activity caused visible rings in the popcorn texture where the domes were placed day in and day out. This is easily repairable and I will go into that in tip #4.
If you plan to safely install the pole and leave it up, there is a good chance you may not even notice there was a pole there when you take it down. When I first started learning to pole dance, I had popcorn ceilings in my little 2 bedroom apartment and a VERY picky Christian landlord. I did everything I could to hide that pole from him for fear of being judged and worried he would take my deposit. I had put the pole up in my living room and left it there until I moved out. When I took the pole down, you couldn't even tell it was ever there and no patching was needed. I did get my deposit back. It was a white ceiling.  It all depends on how careful you are when you install it.
Does popcorn affect the safety of the pole? Yes and No.  Popcorn ceilings will never be as safe as a regular ceiling with not texture because it is harder for the rubber to grip onto popcorn texture.   Think about it, popcorn is a loose material.  I used to worry that the popcorn texture wouldn't allow the rubber on the dome to grip good enough and that the pole might "slip". It never did, not even once.  If you have a GOOD QUALITY pole and it's installed correctly, it is very safe to use on a popcorn textured ceiling. I have personally only used my PFD Pro Quality Affordable Dance pole on popcorn ceilings; however, I am certain the X Poles would be just fine as well.    Critical point to know:  the popcorn texture can reduce the stickiness between the ceilings and the rubber on the dome and therefore, it can slip.   You will need to make your pole tighter than normal on a popcorn ceiling for this reason.    Another way you can avoid the dome slipping is the add 4 pieces of wood around the edges of the dome to help hold it in place.    You can also use a dance pole ceiling mount to permanently attach the top of the dance pole to the popcorn ceiling via a ceiling joist.   Keep in mind that if you use a ceiling mount, it WILL flatten the popcorn texture underneath the ceiling mount.
PATCHING the popcorn texture damage: If you accidentally know off too much of the popcorn texture, patching is pretty easy. They make spray cans, bottles, and dry mixes of popcorn texture that you can buy at Home Depot or Lowe's for about $10 or less. I have used it to repair ceilings and it worked like a charm 🙂 Instructions are in the container and no special tools are required in most cases.   The canned popcorn texture is white and MOST popcorn ceilings are also white.   No painting required, thank goodness!
As I always say, safety is the most important part.
You can't have fun pole dancing if you have fears about the safety of your dance pole.  Take the time to get a good quality portable pole dancing pole for your home and popcorn will be the last worry on your mind.  Be sure that you have set up your pole dancing workout space in your home safely as well and have a ton of fun!!
Oh, one last thought, since you are obviously researching about safe ceiling types to install your new dance pole on, you might be interested in the article below about safe flooring types for your dance pole as well.
Hope this article helps you!!  Happy Poling!!