(Last Updated On: August 7, 2020)
Deciding on the best pole dance crash mat to buy for home use doesn't have to be a difficult process, in fact, it can be a very fun addition to your home dancing space or studio.   Crash mats come in various sizes and colors to fit all occasions whether you are dancing at home, using it for commercial use at a studio, or at the beach.
What Is a Pole Dance Crash Mat?



It's made with materials similar to those of gymnastic pads but with hole in the middle to fit around your pole.   Most round pole dancing crash mats will fit all different sizes of poles from 40mm all the way up to 53mm so you don't usually need to worry about the size of the hole in the middle of the crash mat.  There's a wide variety in the market now to choose from, from the typical like the round ones to square or rectangular shapes.
Why You Really Want A Good Pole Dance Crash Mat
You can never down play SAFETY; it is something that you prioritize in any and every situation especially in something like sports or workouts/exercises.  Pole dancing is no exception, in fact you can't do it without thinking of how to do it safely or else a lot will be at risk.
Because a fall is sometimes inevitable, especially for pole dancers who are doing it at home that are learning new moves while advancing into intermediate and advance tricks.  A crash mat is like your knight in shining armor in pole dancing, especially if you don't have a spotter handy.  It could be your life saver as it catches you when you fall or are just simply too tired to hang onto the pole anymore. It aims to give you cushion whenever you have a fall which will prevent serious injuries.
Crash mats won't give you a 100% assurance of a zero injury pole dance training sessions but it will at least reduce the risks of more serious accidents.
A good quality crash mat can help you feel more safe when learning to pole dance at home when you have not spotter, giving you one less thing to worry about in your mind so you can enjoy you dancing.
How To Choose The Best Pole Dance Crash Mat For You
In finding a good pole crash mat these are the things you should consider:
Quality
Find the ones that has a good quality, with the wide variety to choose from make sure that you go for quality first such as the following:
Made of premium quality fabric of certified materials.   Higher quality material is especially important to keep you high heels from puncturing the crash mat while dancing.
Strong Stitching
Lower surface is made of anti slippery fabric to ensure the Mat does not move
Fast installation with supporting clip
A Strong Velcro System
Design
Look for designs that are not only cute and unique but has a quick set-up and easy portability because you may want to train in your house or pole dance outside with some company. Look for the mat that you can easily take anywhere.   Round pole dance crash mats are BETTER than square ones and will stay in place at the base of the easier because it's wrapped securely around the base of the dance pole.
Sizes
Both the diameter and the thicknesses of the mats can vary depending on the crash mat brand.
On average, most mats are at least 4′ in diameter and range up to 5′ in diameter.    The larger the diameter the better.   Generally speaking, shorter diameters are best for shorter people and longer diameters are best for taller people.   It is always best to buy a mat with the largest diameter you can afford because it more cushion when you fall.  You can never predict how far you might fall away from the pole.
Thickness of mats vary between 2″ and 6″ on average.   The thicker the mat the better.   2″ mats are typically considered suitable for home use however, if you plan to use the crash mat for commercial purposes where dancers in your studio are insured, then in most cases, you will be required to get a mat 4″ thick or thicker to satisfy the insurance company.
Colors
A range of colors from classic black, to pink, silver and gold  and other fun colors so you can pick the crash mat that best suits your personality and mood.   This is where you can let your personality shine and pick a color that suits your dance space best!
The Best Pole Dance Crash Mats To Buy
The best pole dance crash mats are truly the ones that fit your needs best and only you know what they are.   Below are some of the best quality pole dance crash mats available on the market to buy in prioritized order:
Lupit Premium and Standard Pole Dance Crash Mats Review

Lupit brand is a leader in the pole fitness industry and specializes in products for pole dancing.   For that reason they have dedicated their quality to the art of pole fitness and the products they produce are superior to other crash mats you can find on Amazon for example that are produced by a company who is not dedicated to the art of pole dancing.
The Standard mats they are made of very high quality certified materials that are tear resistant and easy to clean. Standard mats have a slightly different sewing technology that allows them to be produced faster allowing the actual cost of the mat to be reduced without compromising quality. Also, standard mats don't have the handles or clips like the Lupit Premium crash mats do.
PRO'S:
TWO Sizes:


8cm (3.14″) Thick – $269.99
12cm (4.72″) Thick – $319.99

Diameter is 1500mm (4ft 11in)
Made of premium quality fabric of certified materials.
Lower surface is made of anti slippery fabric to ensure the Mat does not move
Fast installation with supporting clip.
Designed to be folded together and carried around – easy portability.
PROS
More color options you won't find in other mats like silver and gold.
Premium quality certified materials.
Better Priced – Lower Price than Premium Mats
Comes in Black, Pink, and Red Colors
Diameter is 1500mm (4ft 11in)
Two Sizes Options

4′ x 3.14″ (8cm) – $199.99
4′ x 4.72″ (12cm) – $239.99

Made by a trusted brand leader in the pole fitness industry.
CONS
Stitching may not hold up as well in the long run as much as the Premium version would
limited color options
No handles therefor not as portable, or harder to transport I should say.
No clips for secure fastening to lock it in place.
No anti slippery bottom fabric as shown in the Premium version.
Pole Tribe Pole Dance Crash Mats Review

The Pole Tribe Crash Mat one is a high quality dance pole crash mats, 3.5 inch thickness pole mats. 5ft diameter (which is ideal size for pole dance pads) it is also foldable and portable for easy storage  and transportation.
PROS:
Great color choices in black, hot pink, sea blue and violet purple.
Thick and sturdy –it's best for practicing  at home, secures around the pole very well which  will give you more confident as you practice the more advanced moves.
Dense foam- foam is high grade and not squishy, It's not super soft like pillows but you can be sure of the good quality of foam they are using.
Strong and well made –  the outer vinyl layer is high resistant, making it stilettos proof (it can withstand  your stiletto heels!)
Easily Foldable and Portable with handles.
Lower priced than most major brand names at only $195.00
CONS:
You cannot choose a size or thickness of mat that suits you best.
Stitching is not as good as the Lupit brand.   Amazon reviews indicate that people don't generally have a problem with this.
Pad will seem very firm at first but after some time of using it will get better (but a lot of people do not find this an issue!)
Price:  for a $195 crash mat I can say you will be getting your money's worth : very good quality ,durability , easy storage and transportation  plus stylish looks and color. This one is a good catch I mean literally 😉 for pole fitness/dance enthusiasts.
Tangkula Pole Dance Crash Mat Review



Made from PVC and pearl cotton this 2" thick pole crash mat is also perfect for home practice / pole dance training. The EPE foam mat with a hole in the middle fits to most standard pole bases and creates a safety cushion around the pole. It folds in four quarters for easy storage and transportation.
PRO'S

Pink or Blue color choices.
Good quality- New design, elastic, durable, light weight ,skid-proof and waterproof, easy to wash.
Firm enough to stand, and can protect you and offer cushion as you practice new moves that might
works well with all brands of pole
It's the cheapest price.
Foldable making storage easier
CON'S
might not work with stilettos
a bit slippery on hard floors
not very thick, you wouldn't want to take a hard fall on this mat.
Not  many color choices
Cannot choose your size of mat.
No handles, not as easily portable.
Price: $69.99- $72.99 this is perfect for those who don't want to shell out more than $80 for a pole crash mat, quality wise it's good enough for the price you are paying.
Square Gymnastic Crash Mats Review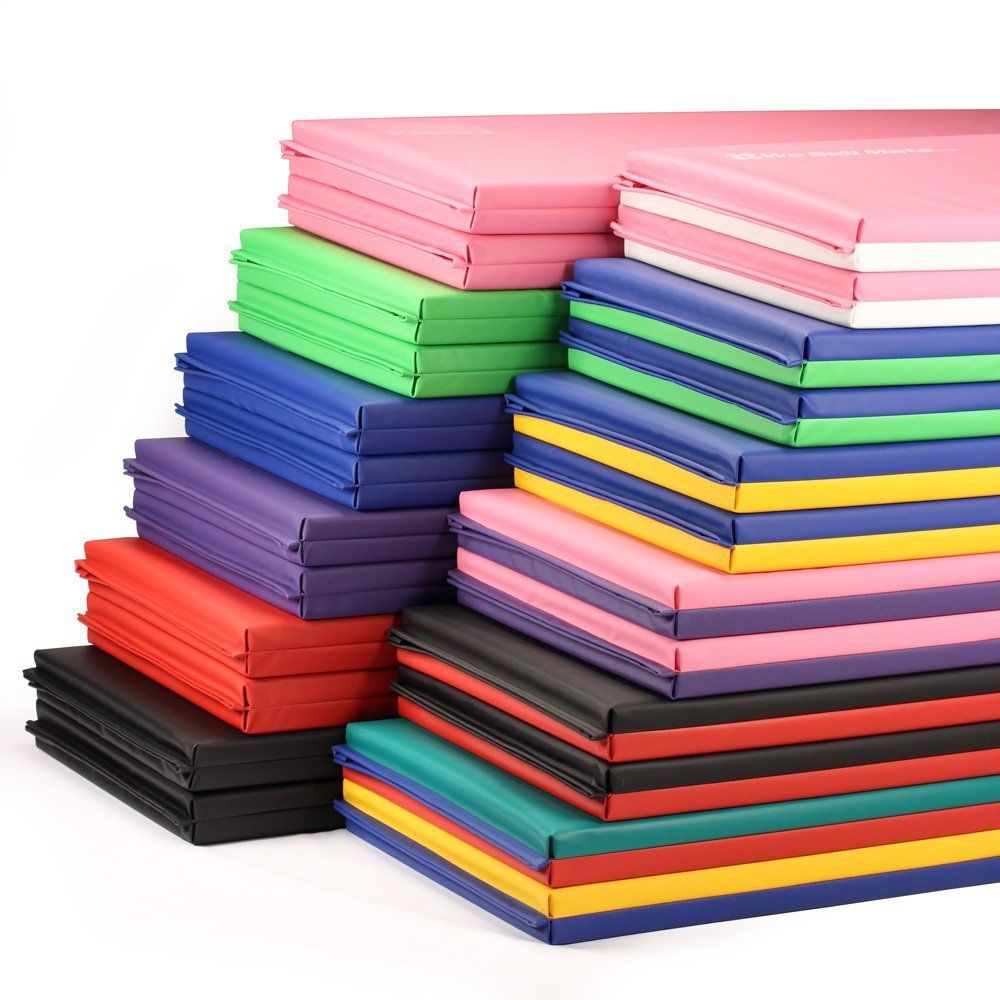 Another high quality mat, this one is perfect for those who are into gymnastics, martial arts and the ones needing bigger mats for exercise and training purposes. 2" thick, thick gymnastics tumbling exercise martial arts yoga Pilates folding mats, 4 x 8 mat constructed with cross link polyethylene foam, it folds into 4 sections for easy carry and storage.
If you are already in need of mats for the above reasons, then they could be folded around the base of your dance pole too.
PRO'S
Well built – it is durable, it has great quality, the vinyl cover is high quality – heavy duty 18oz. vinyl covering.
Dense foam- the foam is thick and supportive and firm, not too soft and mushy
Phthalate free- kid friendly and comply with the federal law regulating children's product.
Hook and loop fasteners on all 4 sides makes it easy to Connect mats together in any configuration
so far 87% good reviews on Amazon, however, there is not evidence of how many of the customers are using them for pole dance.
Lot's of color options, they have the most color options available.
CON'S
Square shape doesn't  fasten around the pole well, it's not made with a hole in the middle for the pole.
Won't look as pretty around the base of your dance pole because it's technically not made for it.
Cannot choose you thickness, comes in 2″ only.
Some people find it very stiff so it's not for the ones who want a  pillow like cushion for hard fall/ training.
Price is higher than an actual round pole dance crash mat.   Use these if you also need them to double over for other fitness training (like gymnastics for example).
Price: $149.95  good price for a good quality mat like this one, very suitable for gymnastic training, martial arts and other exercises that requires tumbling/floor exercises.
Look for a premium quality crash mats
Improving or advancing in skills whether it's a sport, a dance or your day to day workout requires patience, dedication and perseverance but sometimes you also need to invest in accessories not just to boost your performance but for safety features.   You should never skimp on saftey and consider buying the best mat you can afford, this isn't an area to go cheapo on, you will only hurt yourself in the end.   Look for premium quality crash mats here => 
So there you go, enjoy your pole dancing workout anytime of the day anywhere and don't forget to bring your crash mat for safety!