(Last Updated On: May 18, 2021)
Spencers Pole Review
It is important to research the types of pole dancing poles you can install in your home before you begin any good pole dancing workout, especially if you are considering the Spencers dance poles. You want your pole to be safe and sturdy and the Spencer's pole may not be sufficient. The last thing you want to be is the next funny YouTube video of a woman who was learning to pole dance at home and then the pole came loose from the ceiling! So again, researching different types of pole dancing poles is important.
A safe pole dancing pole is essential and should not be compromised.  Watching dance pole reviews like this one will help ensure you get what works best for you.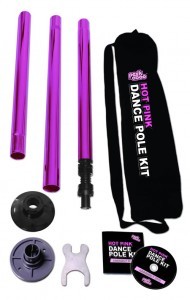 Most people start shopping for the best deal and begin their research with whatever brands come up first on the search engine. The Hot Pink Stripper Pole sold at Spencer's is one of them and if you can't afford the best name brand dance poles on the market, like an X pole for example, then poles like the Hot Pink Pole at Spencer's look enticing.  This same pole dancing pole can come in chrome and purple colors too! Color is fun and attractive! Who wouldn't want a fun colored pole?
The price is tempting too! You can easily get this dance pole for under $100, especially on Ebay or Amazon, but is it worth the price?   I thought so once and bought several off Ebay and Amazon and made a TON of mistakes – you can watch a video review about cheap dance poles on Ebay and Amazon here.  Is the Hot Pink Stripper Pole sold at Spencer's going to be good enough for an average woman just looking to do some fun fitness moves in her bedroom? FYI, Spencer's is just an outlet that sells this item, they don't make this pole, it's a party item and not built for pole fitness activities.
Why is it not safe for pole fitness?  I am not a fan of any dancing pole that has plastic parts because simply put, plastic breaks. However, cars are made of plastic and the only real way to know how if it is safe is to use it.
It's tempting to buy it because the advertising seems safe, why would they sell something if it wasn't ok to pole dance on? Right?? :/
I bought one to set up
and use in my home to see for myself. I didn't go to Spencer's and buy the exact Hot Pink pole, but I did buy one for cheaper off of Ebay that had all the EXACT SAME pole parts shown in the picture advertising the Hot Pink dance pole at Spencer's as you can see for yourself in the photos to the left. I just wanted a purple one for the video because there are so many pink pole dancing poles, X Pole and Lil Mynx even have a pink pole dancing pole for sale. Again, I bought a purple one instead of the pink, however, their parts look identical in the pictures.
When the box arrived, the Spencers Pole was in a plain cardboard box. When I opened it, there was the Carmen Electra DVD and carrying case with all the dance pole parts as shown in the advertisement as I expected.
Here is the Spencer's dance pole video review of my attempt to use the Hot Pink (in my case purple) Stripper Pole I bought to try out in my home:
Here is the dance pole review for the Professional Carmen Electra Pole (they are basically the same pole as far as I can tell with my eyes, short of the color):
At the end of the day, I learned, AGAIN, so buy cheaper versions of brand-name poles! They never seem to go together right, parts break, and in the end, I don't feel entirely safe dancing on the pole which makes any plans to have a pole dancing workout at home a distant hope.
When you invest in a good workout, you invest in your health and well-being as a person; don't make you investment a cheap one, you and your health deserve the best.
Get a good quality, safe, pole dancing pole for your home here >>
I hope you found this Spencer's Pole review helpful! 😉
Looking for more dance pole reviews?  You can find all my dance pole reviews here =>