(Last Updated On: August 14, 2022)
There are many pole dance gift ideas to buy. Here we made a list of gift idea for pole dancers such as pole dancing accessories or online pole dance lessons.
Need help to find a suitable gift for your pole dancer friend? Christmas is around the corner and you want to surprise your partner with an exciting gift. Or maybe your friend's birthday is coming up soon and he/she is a pole dancer. Here we put together a list of items from our shop with different price ranges for you to choose from.
Dance Poles
An absolutely amazing gift to give your partner and your loved one. Dance poles are considered one of the greatest sports tools for home use. This tool is easy to set up and does not occupy much room. Even if you are living in a rental apartment, this tool is easily removable and portable. In return, it gives a limitless possibility of workouts that can be done from the comfort of one's own home!
Below are the top 3 highest sold dance poles in our shop 
On a side note, dance poles can be a popular gift among couples to spice things up in the bedroom if they enjoy sensual dancing. Otherwise, this fantastic apparatus is used for fitness and self development. Read more on the mental and physical benefit of pole dancing here.
Online Pole Dance Lessons 
If your pole dancer friend already owns a dance pole we have a great gift idea for you. The PFD online pole lessons are among the top online pole lessons. The lessons are designed by Danna Rossi, comes with step by step guidance and you can benefit from a teaching style from years of experience in teaching and pole dancing.
Danna's pole lessons are meant for all people from all backgrounds. Danna's lesson's are easy to follow. She teaches the use of correct and proper dancing forms that fundamentally builds one to be a great pole dancer.
Check out our high in demand Online Pole Lessons below
Pole lessons are an amazing way to gift to a friend or loved one who is living away from you as you can easily deliver the gift virtually. Also, these lessons are for life and unlike most video lessons out there, once it is purchased you can access it forever.
Neoprene All Purpose Tote Bag
The Neoprene Tote Bags (Currently on SALE!) are our new addition to our shop is a great gift for pole dancers as it's perfect for an active lifestyle and everyday use! The neoprene material of the bag is not only soft, it is waterproof so it can also be used for the pool, boat, or beach outing. It has an ideas size (15″ x 9″ x 12″) that makes it a bag that can hold so much YET does not look bulky. We all need one of these bags. It's versatility for any activity, be it yoga, swimming, tennis, groceries, books, and laptop for work or school plus your lunch makes it a super useful gift that your friend will love you for!

Pole Crash Mat
Pole crash mats are among the most useful and important pole accessories that most pole dancers procrastinate buying. You will do a HUGE favor to your pole dancer friend or family by buying this gift. This way the safety of your pole dancer friend is more assured during their home practice.
Here are the Lupit Crash Mats options to buy;

Crash mat as a gift can be very meaningful as it gives a positive sentiment of your support and care for someone's pole practice and safety. Lupit crash mats are proven for their quality and durability. This makes it a great choice for your friend and loved one.
Pole Dance Grip Aid
This product is an amazing gift. If you ask any of your pole dancer friends or partner, they will tell you it is a pole dancer's best friend. In fact some say there is no such thing as too much grip aid. Grip Aid is a type of solution used by pole dancers to help with getting a better grip on the pole. It helps with sweaty hands and skin and makes a pole practice safer as it prevents a dancer from slipping.
View and purchase our best grip aids by clicking on the links below;
Beginner dancers can benefit a great deal from grip aids as it increases performance. For more advanced pole dancers, this product is a must have in their pole kit. Read our product description and product reviews from the links above to know more about the PFD grip aids.
Dance Pole Ceiling Mount
This is an interesting gift idea if your pole dancer friend is wanting to permanently install their PFD Pro Quality Pole. Ceiling mount attachments makes a big difference in stabilizing the pole especially to support heavier dancers' weight. Just make sure you check on the compatibility of the ceiling mount with the pole to be sure you are getting the right product. You can choose a flat ceiling mount for flat ceilings and a vaulted ceiling mount for slanted ceilings.
Below are 2 ceiling mounts that can be used with the PFD Pro Quality Pole

X Pole X Stage Lite Pole Sets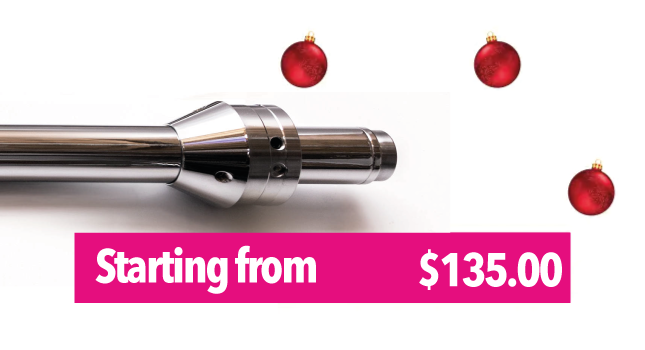 Know a friend who has an X Pole X Stage Lite? If they already own the X Stage Lite, a great gift for them would be the X Pole Sets (which you can get in a DIFFERENT finish material for a quick change) and they are compatible with the X Stage Lite Stage Pole!. The pole sets means that they can keep the stage base and just  switch the pole connections for an instant finish change. Check out this great article on the different pole finish types to choose the best pole finish for your friend.
X-Pole Warmer
We all know it's hard to stay motivated to pole dance in the cold and for this reason we LOVE the X Pole Dance Pole Warmer You can perk up your friend's winter practice with this amazing product and they can say goodbye to the cold slippery feel of their pole in winter. If your dancer friend has a home pole AND power supply, this little gift is a perfect for them. In just a few minutes, the pole warmer transforms a cold pole into an inviting pole ready for use! That easy.
Remember you can always open a support ticket and one of our support agents will be happy to assist you with any product enquiries! 😉 Click Here